Monday, December 14, 2009
Have you heard that NeNe and Kim are demanding more money to appear on the Real Housewives of Atlanta?
"Text that bitch Andy Cohen and tell him he's picking up our tab at Cinco's tonight or we walk!"
Yes! TMZ says they're holding out in order to get their super-high 'lectricity bills paid (!) but Gatecrasher says it's about "diva-esque requests." Both sound right to me.
I love watching NeNe and Kim on RHOA, but what I would love even more would be to see their reactions when Bravo stops returning their phone calls. Talk about a BAM! to the FACE.
Speaking of $$$, I recently ran across Bravo's "can you match the pocketbook to the ATL housewife?" quiz (NO, I am not kidding). Let's ignore the fact that on the previous season of RHOA, "pocketbook" meant "vagina" and move on to the more pressing matter: NeNe's pocketbook.
Oh GOD, I cannot stop giggling. Can't you see her emptying the contents of her handbag and carefully pulling out that styrofoam plate of chicken and rice, explaining "I'm HUNgreee!!" (not to mention a little irregular).
Honestly, I have no room to talk--my purse is full of garbage. Who am I to judge? ("but I'm HUNgree!!")
Anyhow, thank you, Bravo. Thank you for these dumbshit quizzes on your website (find more here, here and here). I'm sure Kim and NeNe will find them to be a satisfying way to pass the time when they are out of a J-O-B.
Sweetshorn's comment: "Kim has Valtrex and Newport King 100s in hers. I suspect she carries wet wipes around too. You know, because of the pantyless miniskirt situation."
Ladies and Gentlemen, Kim's purse: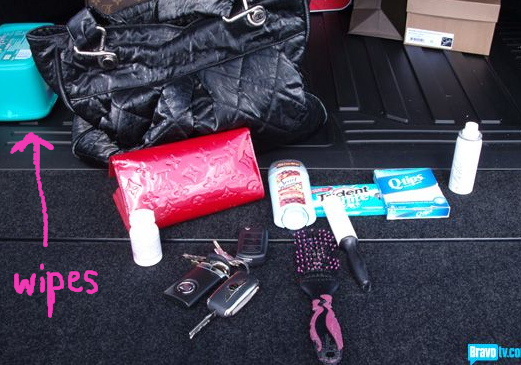 Bet you $50 that the Newports and Valtrex are smashed into the red patent wallet.